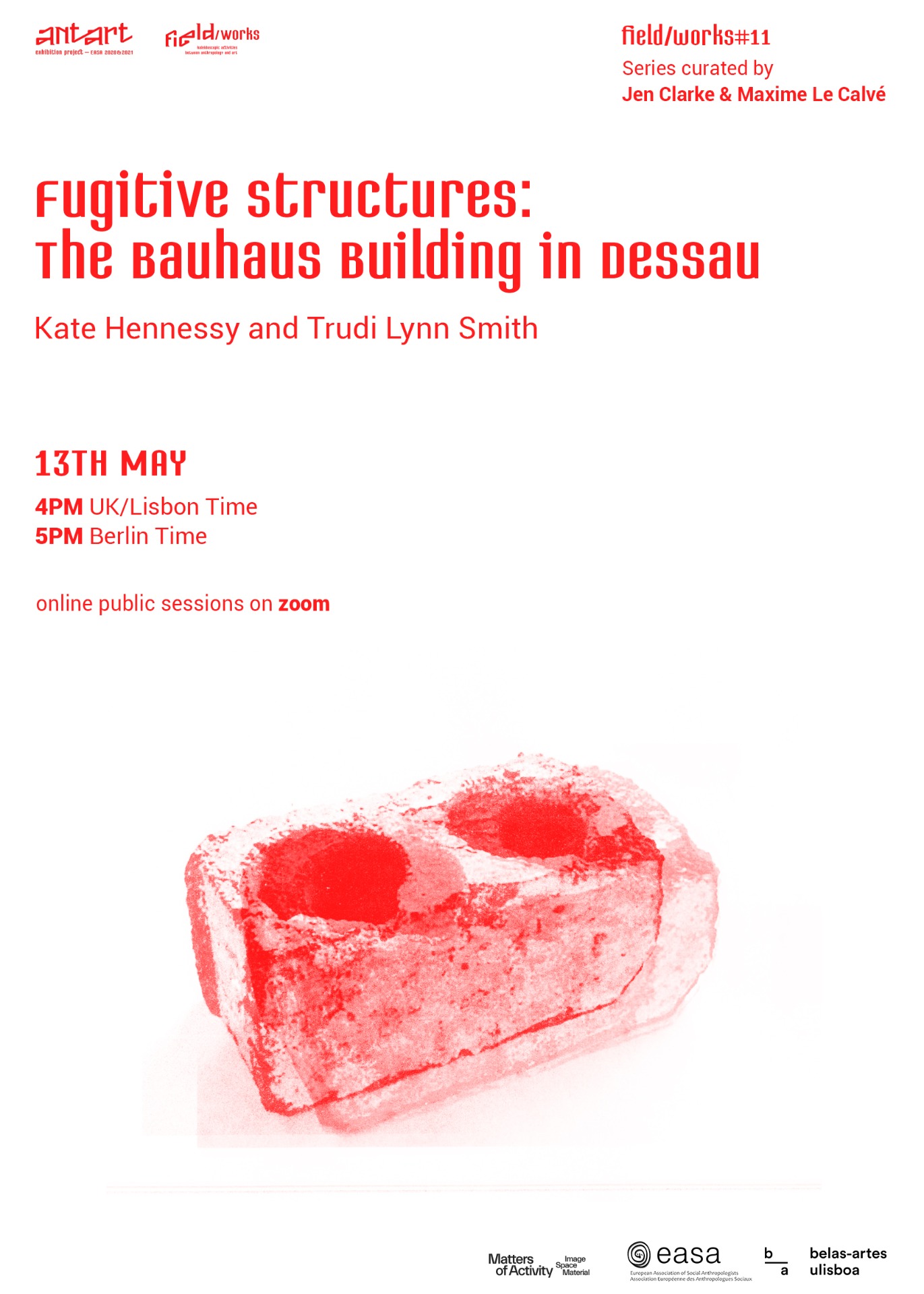 Fugitive Structures: The Bauhaus Building in Dessau
Fugitive Structures: The Bauhaus Building in Dessau is a series of five risograph images remediating the Bauhaus building in Dessau. Highlighting the ways in which the Dessau building and its photographic archive have been repeatedly subject to destructive political, cultural, and environmental forces, we transform these early photographs and contemporary heritage documentation of the building as examples of what we call anarchival materiality, or the generative force of entropy in archives. The anarchival force of molecular transformation, violence, displacement, and other human and non-human interactions render archival materials as fugitives, both eluding and driving preservation. The risographs show the mutable value of objects as they become fugitives (anarchival) and then archival again in new contexts and media.
The Risograph is an offset ink printing machine notorious for unpredictability and imperfection and misalignments of cyan, magenta, and yellow layers when making a color copy. Working with this machine we co-created misaligned risograph images to unbind the building and archive from a narrative of stability and permanence. Our images suggest that the Dessau building, envisioned by Walter Gropius as a manifesto of the Bauhaus idea and promoted largely without crediting the photographer, Lucia Moholy, exists as an entropic fugitive archive that is as precarious as it is iconic. How does considering the Dessau building through a critical feminist ethos of anarchival materiality suggest an alternative reading of Bauhaus histories and futures? The risograph images represent our collaborative practice of image making between art and anthropology, and were produced as a method for writing about the Bauhaus for its centennial year.
Kate Hennessy and Trudi Lynn Smith are anthropologists and practising artists that have worked together as curators and collaborators since 2009 as a part of Ethnographic Terminalia, an international curatorial collective exhibiting and creating works at the intersection of art and anthropology. Hennessy is an Associate Professor at Simon Fraser University's School of Interactive Arts and Technology, where she leads the Making Culture Lab, an interdisciplinary research and production studio. Smith is an Adjunct Assistant Professor in the School of Environmental Studies at the University of Victoria, and recently held the position of artist-in-residence with Hennessy in the Making Culture Lab. Together they explore cultural practices of media, museums, and archives in the context of technoscience. Their art practice in video, photography, and text has engaged with entropy in diverse collections and the ecological, social, and political impacts of new digital memory infrastructures. As ethnographers as well as artists, Hennessy and Smith highlight collaboration as a central aspect of their work, working with both human and non-human entities to represent the politics of the material world and its relationships with human agency.