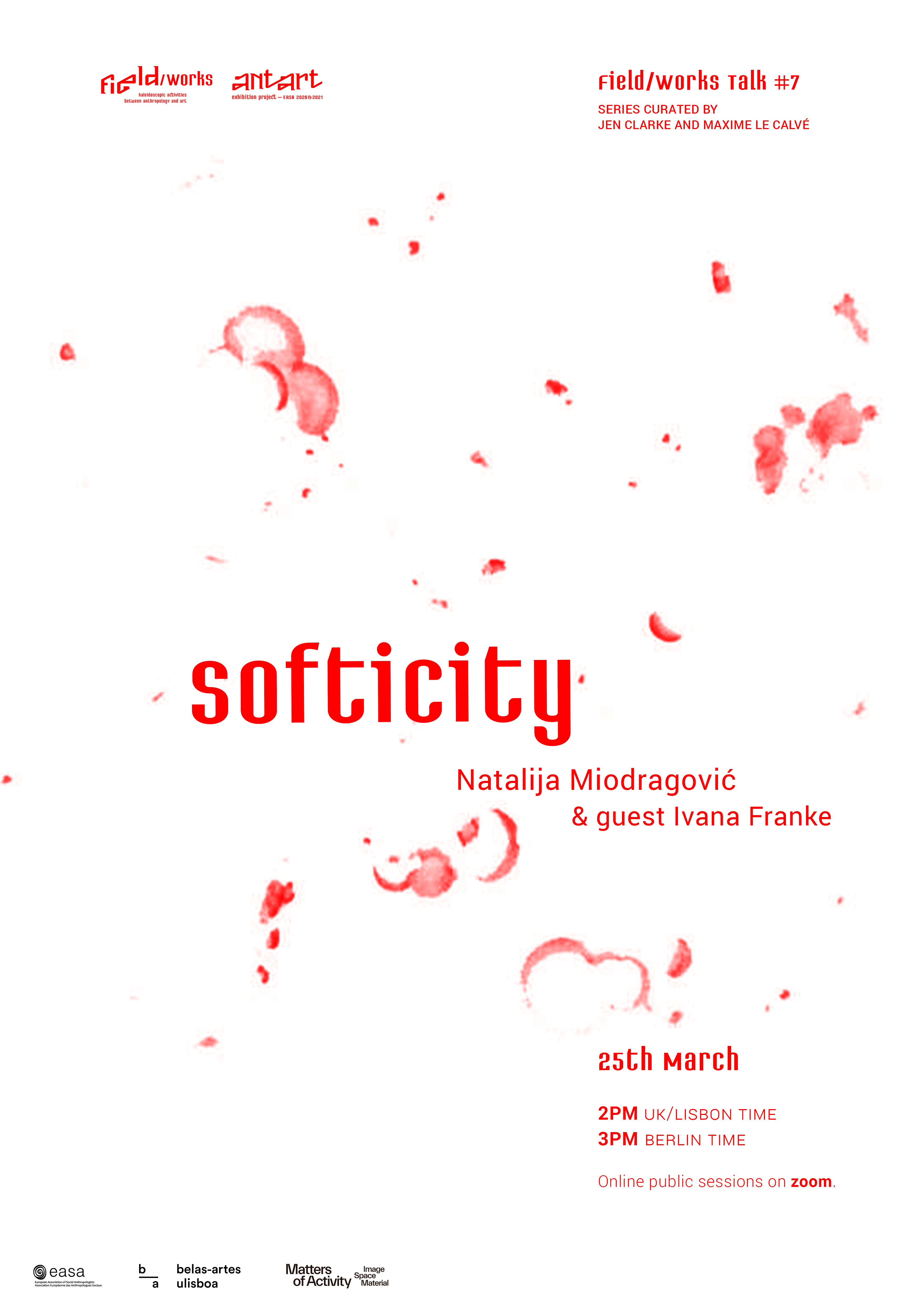 Softicity

Softicity. The future architecture is soft. We developed a habit to inhabit the noisy reverb of sleek surface and the superimposed reflections in glass. The imaginary for the soft city needs diving into the mycelium scale. The soft city is more silent. The soft city is slower and it smells different. The soft city is interwoven with bodies, clothes and objects and it needs your attention, like your companion species do. We need courage and imagination to house the human earthlings in the post fossil, post concrete, fiber-based architectures.
Online video performance has soft fungi environments collected during the fieldwork as background. It is a study for possible symbiotic cohabitation with new urban materiality. The instructions will engage public online to question the sensory modalities, the materiality and the intra-climate of personal habitat. The online collages and videos serve as the imaginary of a different, softer city. Until 2021, the online exhibition will become part of speculative research in atmospheres of fiber architectures.
The Starting point for the interdisciplinary and experimental work of Natalija Miodragović M.A. (SCI-ARCH) are art and space as vehicles for social change. She works in cooperation with artists, scientists and in the field of academic research. The focus of the work is perception and understanding of space, lightweight, flexible, unfoldable and textile structures. www.miodrago.net
Currrently Excellenzcluster Matters of Activity, Image Space Material research group Object Space Agency 2016-2018 Foldable, Insulating Textiles in Architecture Prof. Lueling. Teaching: 2014-19 Institute for Architecture based Art TU Braunschweig, 2018 Weissensee academy of art berlin. Author with dreidreidrei Organ for Zionskirche Berlin, Serbian Pavilion EXPO 2010 and 2002–2015 with artist Tomas Saraceno, architect and co-author of series of projects and exhibitions like Geodesic Solar Ballloon, Biospheres etc.
Ivana Franke is a visual artist based in Berlin. Her investigations with light approach the interface between consciousness and environment, focusing on perceptual thresholds. Recently her on-going project LIMITS OF PERCEPTION LAB continued in Savvy Berlin 2020 and "Resonance of the Unforeseen" were part of Yokohama Triennale 2020.