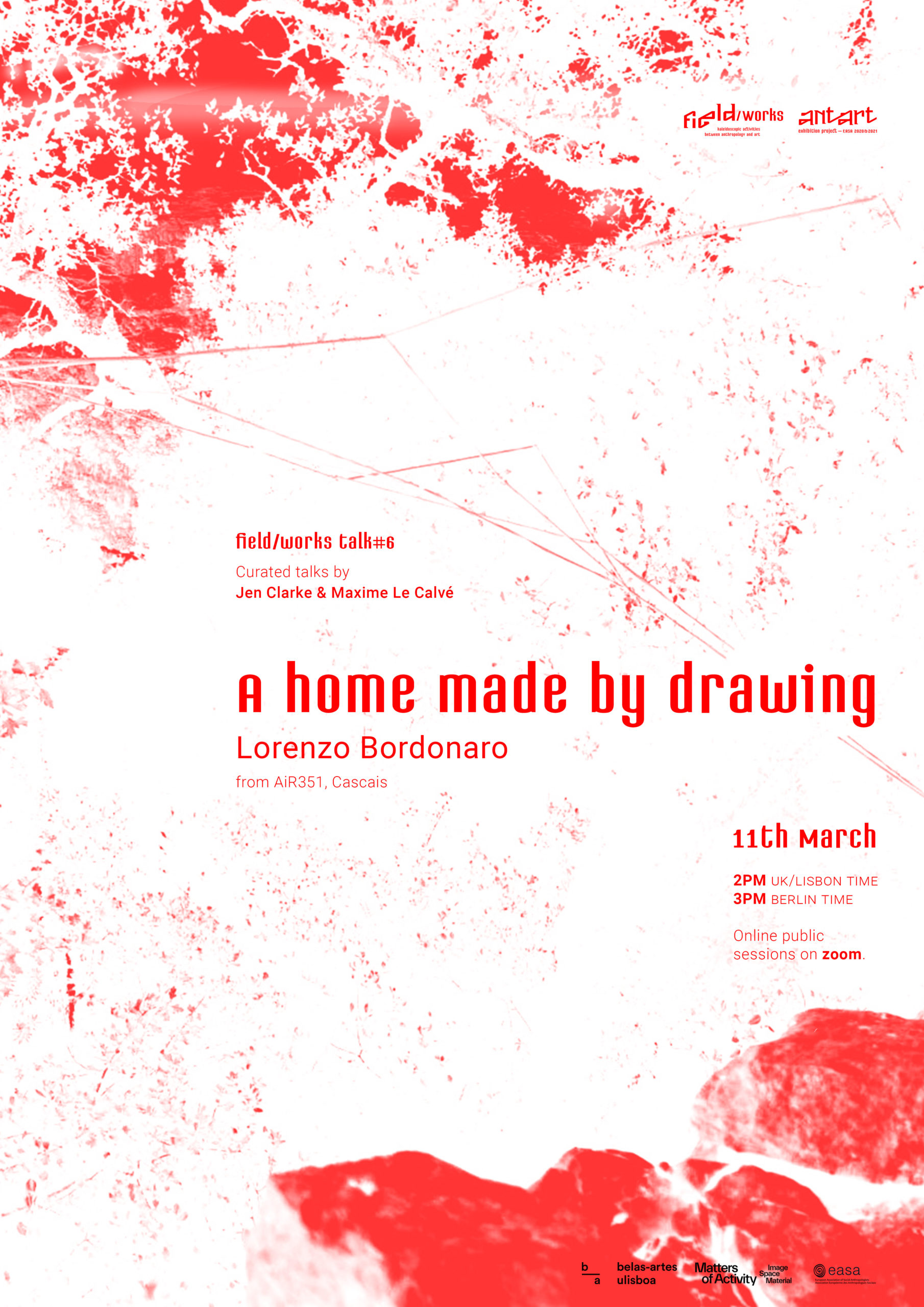 A Home Made by Drawing

A Home Made by Drawing is an art-research and anthropological long term project exploring the human practice of dwelling as symbolic and relational activity, and the provisional nature of human meaning-making and identity. The project investigates the dialectic between openness and closure, finite and infinite that generates a constant, ambiguous and unsolvable movement between contraction and expansion, between chaos and order. Drawing on Tim Ingold's (and Heidegger's) approach to dwelling, A Home Made by Drawing explores non-static and fluid manners of home-making that evoke an alternative and nomadic relationship between human beings and their environment, also suggesting different and liquid notions of identity and belonging and inviting us to be 'at home in the world'.
Lorenzo Bordonaro (BA+MA anthropology, Università di Torino, Italy; PhD Cultural Anthropology, ISCTE, Lisbon) was post-doctoral researcher at IUL-ISCTE (Lisbon), at Sergipe Federal University (Brazil) and UTAD University (Portugal) and conducted ethnographic research in Guinea Bissau, Cape Verde, Portugal and Brazil. He studied painting and drawing at ArCo (Lisbon) and is presently MA candidate in Sculpture at the Academy of Fine Arts in Lisbon. His artistic practice merges with the anthropological research: his installations and public art projects are often rooted in a wider social reflexivity and in political activism. He carried out art projects in different social contexts and geographical areas: from Brazilian favelas to shanty towns in Lisbon; from the Cape Verdean ghettos to the historical neighbourhoods of Graça and Mouraria, in Lisbon. He participated in several events, festivals and collective exhibitions, among which the Architecture Biennale in Venice, Manifesta 12 in Palermo and Ethnographic Terminalia in Chicago, US.